Horseracing is one of the most popular sports and bets in Australia and New Zealand and if you've ever watched a race, you'll immediately understand why. There is absolutely nothing quite as breath-taking as witnessing a magnificent beast of an animal give something their all quite like racehorses do.
The sheer strength and magnitude of their talent is simply awe inspiring. So awe inspiring in fact, that fortunes have been made and lost on the backs of these incredibly talented creatures and thousands of punters try their hand at making their own fortunes through horserace betting on a daily basis.
Lets discuss whether Quinella, Trifecta and Accumulator bets are worth the risk, or just a risky business…
What are Quinella Bets?
With a Quinella bet, punters must select horses to finish in either 1st or 2nd place, in any order. Similar to the Exacta where the selected horses must come in 1st or 2nd place in a specific order, but the order is not important in a Quinella bet – as long as the selected horses come in 1st or 2nd place the wager will be fulfilled.
The cost of a Quinella will depend on how many horses are selected to fill the first 2 places, as you can select more than 2 horses if desired but the price of the wager will increase with each further selection.
What Is a Trifecta Bet?
Almost all horse racing betting sites offer Trifecta bets for two reasons: they are popular amongst punters, and they also make the bookies a lot of money! The punter has to select horses to come in 1st, 2nd, and 3rd place in a specific / exact order, which as you can imagine can be very difficult, which is where the bookies make their money.
More than three horses can be selected to fill the Trifecta places, but the cost of the wager will go up with each additional horse selected.
Trifecta bets are particularly popular amongst veteran punters as the pay-outs can be very lucrative for a relatively small financial risk.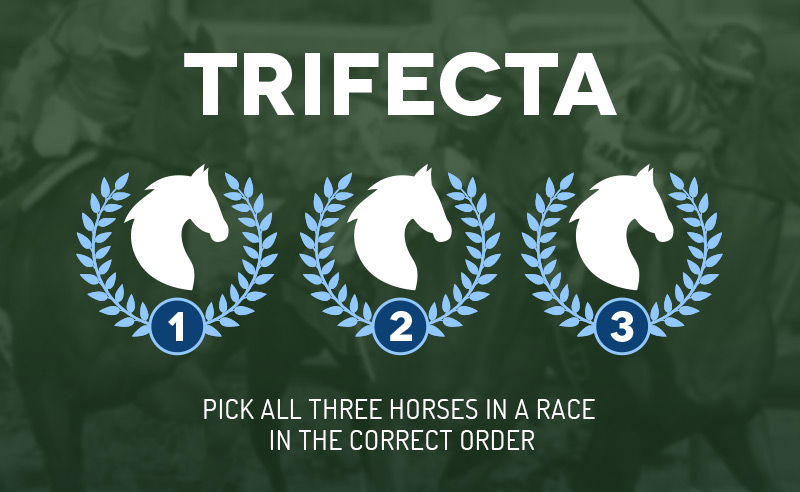 What Is an Accumulator Bet?
An Accumulator bet is by far the riskiest bet of the three types of horseracing bets discussed here as it is essentially four bets rolled into one, and all four predictions have to prove correct in order for the best to be successful.
The commonly known First Four bet is an example of an Accumulator and the punter has to correctly predict which horses will come in 1st, 2nd, 3rd and 4th place in the exact order for a First Four bet to be successful. The advantage of an Accumulator is that winnings are much higher at the expense of increased risk, as a single incorrect prediction will lose the entire bet.
Worth the Risk or Just Risky Business?
While the Quinella, Trifecta and Accumulator bets could see you winning an outrageous amount of money, they are also incredibly risky and therefore they are generally only recommended to veterans in the world of horserace betting.
With regards to the degree of risk, a Quinella bet would be the wiser choice of the 3 considering that the selections can finish in either 1st or 2nd place, unlike the Trifecta and Accumulator bets.
However, these types of bets will certainly add another level of excitement to your racing experience, we wouldn't recommend these bets on a frequent basis.