Ruffian, 17th April 1972-7th July 1975, was an American champion thoroughbred racehorse who won 10 consecutive races, typically by wide margins. On 6th July 1975 she contested a highly anticipated match race against
Foolish Pleasure, the winner of the Kentucky Derby, but she tragically broke down during the race. While surgery was attempted to repair the injury, Ruffian reacted poorly and exacerbated her injuries while coming out of anaesthesia, after which she was humanely euthanized.
Ruffian's Early Life
Foaled at Claiborne Farm outside Kentucky, Ruffian was bred by Stuart S. Janney and Barbara Phipps Janney, owners of the Locust Hill Farm in Maryland. Sired by the Phipps family's Bold Ruler stallion, Reviewer, and out of the Native Dancer mare Shenanigans, Ruffian was trained by Frank Y. Whiteley, Jr. Standing at 16.1 hands (165cm) as a two-year-old, Ruffian was a nearly black filly and sportswriter Joe Hirsch described her as the most imposing juvenile filly he had ever seen.
Ruffian was known to use her size and clout to intimidate other fillies, well before the race even started.
Two-Year-Old Racing Season
Ruffian's debut race was on 22nd May 1974 at Belmont Park in a 1,100m maiden special weight race which she won by 15 lengths and tied the track record. This was a noteworthy achievement for such a young horse, but it was only a sign of things to come.
She then went on to win the Fashion Stakes, Astoria Stakes, and the Sorority Stakes – which all surely would've offered competitive odds, much like AFL betting odds. On August 23rd at Saratoga Racecourse, Ruffian won the Spinaway Stakes by 12.75 lengths, in track record time.
The morning after, it was discovered that she had a hairline fracture in her hind leg which caused her to miss the rest of the two-year-old season.
Three-Year-Old Racing Season
Starting her three-year-old campaign with an allowance race win, Ruffian went onto victory in the Comely Stakes on April 30th. She then swept through the New York Triple Tiara, which at the time consisted of the Acorn Stakes, Mother Goose Stakes, and the Coaching Club American Oaks.
Undefeated in her first 10 races, Ruffian covered distances ranging from 1.1-2.4km, with an average winning margin of 8.33 lengths.
Ruffian's Final Race and Tragic End
Ruffians 11th race was a match race between her and that year's Kentucky Derby winner, Foolish Pleasure, at Belmont Park on 6 July 1975. Ruffian hit her shoulder hard as she left the starting gate, but straightened herself, and 603m later she was ahead by half a length.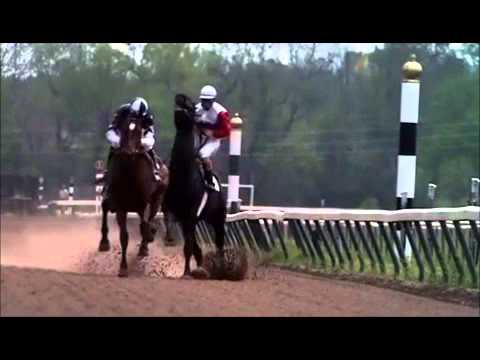 Then, as she changed leads, an audible crack could be heard: Ruffian had snapped both sesamoid bones in her right foreleg.
Her jockey, Jacinto Vasquez, tried in vain to stop her, but Ruffian kept running in an attempt to win the race, obliterating her sesamoids, ripping the skin of her fetlock, and tearing her ligaments until her hoof flopped uselessly. Surgery was attempted, but Ruffian reacted badly to the anaesthetic, causing further injuries. She was humanely euthanized shortly afterward.